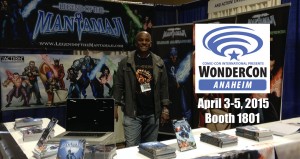 Eric was interviewed this week by the OC Register on the festival of pop culture fun that is WonderCon Anaheim. The story discusses cosplay and what is behind the rise in comics in pop culture from subset to mainstream:
But the transformation from geek hobby to mainstream popular entertainment has grown steadily over the past decade due to the rise of the comic book superhero genre in movies and television, said Eric Dean Seaton, a television director and author of "Legend of the Mantamaji," a graphic novel.

"This is stuff we grew up on as kids and secretly liked," said Seaton, who is an exhibitor. "And now, for adults it's nostalgia and for kids, superheroes have become their Greek heroes and history stories."
If you're in the Anaheim area, stop by the "And…Action!" Entertainment Table (Booth #1801), meet Eric and pick up Legend of the Mantamaji! If you're not headed to WonderCon, you can still own a signed copy of Legend of the Mantamaji, just order from our website, all books come signed from the author!