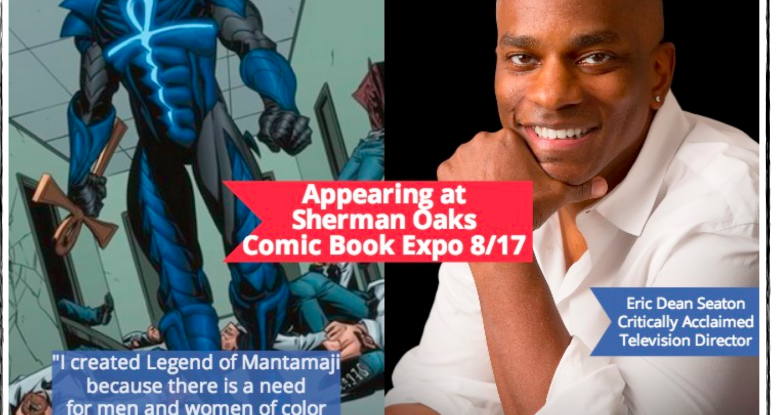 Television Director Eric Dean Seaton will be on hand to sign and sell copies of Book 1 and offer exclusive limited copies of the complete series.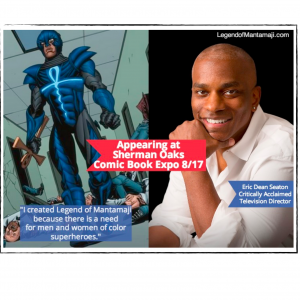 PRLog – Aug. 15, 2014 – LOS ANGELES, Calif. — Critically-acclaimed television director Eric Dean Seaton is appearing at the Sherman Oaks Pop Culture and Comics Expo to promote his new graphic novel series "Legend of the Mantamaji" [http://www.LegendoftheMantamaji.com] on Sunday, August 17, 2014 at 14201 Huston St., Sherman Oaks, California. Seaton's appearance is a special treat for attendees as the first book is being made available to the public before its October 8, 2014 release date. Seaton is also bringing a limited number of copies of the complete series as an exclusive.
"Last month we offered the entire series as a Comic-Con Exclusive in San Diego to attendees and the response was overwhelmingly positive," Eric Dean Seaton said. "Many who bought the first book in the series came back later during the convention to buy the rest. The "Legend of the Mantamaji" series was the only Comic-Con Exclusive by an independent publisher at the San Diego event."
A three book series, Book One is set for release on October 8th, with release dates for Book Two and Book Three scheduled for December 10, 2014 and February 11, 2015, respectively. The books are also available for pre-order on Amazon, Barnes and Noble and the Legend of the Mantamaji website.
"The Legend of the Mantamaji" follows the story of Elijah Alexander, a brash assistant district attorney, who suddenly discovers he is the last of an ancient race of warriors sworn to protect humans. Fast-paced, heart-stopping action combines with a layered, thoughtful story full of hair-raising plot twists as Elijah struggles with the truth of who he is and what he means to the world.
The book features artwork by Brandon Palas, colorist Andrew Dalhouse who has worked with From Boom, Dark Horse, Image, Marvel and DC and lettering by Deron Bennett, who was nominated for an Eisner Award two years ago for his work on titles like Jim Henson's Dark Crystal, Jim Henson's Tale of Sand and Helldorado, among others.
About Eric Dean Seaton:
As an episodic director, Eric Dean Seaton has been nominated twice for an NAACP Image Award and has helmed over 34 different shows, 175 television episodes, 18 music videos, two pilots for Nickelodeon as well as two pilots for Disney XD.
A graduate of The Ohio State University, Eric has also directed episodes of the NBC/Warner Bros. comedy "Undateable," BET's "Let's Stay Together" and "Reed Between the Lines," and directed the pilot and co-executive produced the Starz Kids and Family Channel and international hit, "The Wannabes Staring Savvy." He has dreamed of being a comic book creator since his childhood in Cleveland, Ohio. Eric is a member of Alpha Phi Alpha fraternity and he, his wife, son and daughter live in California. You can see Eric's work atEricDeanSeaton.com or follow him@ericdeanseaton on Twitter.
About "The Legend of the Mantamaji:"
Legend of the Mantamaji: Book 1 Paperback – October 8, 2014
Eric Dean Seaton (Author)
David Ellis Dickerson (Editor)
Brandon Palas(Illustrator)
Paperback: 216 pages
Publisher: And… Action! Entertainment; 1 edition (October 8, 2014)
Language: English
ISBN-10: 1930315341
ISBN-13: 978-1930315341
Order #: AUG140977