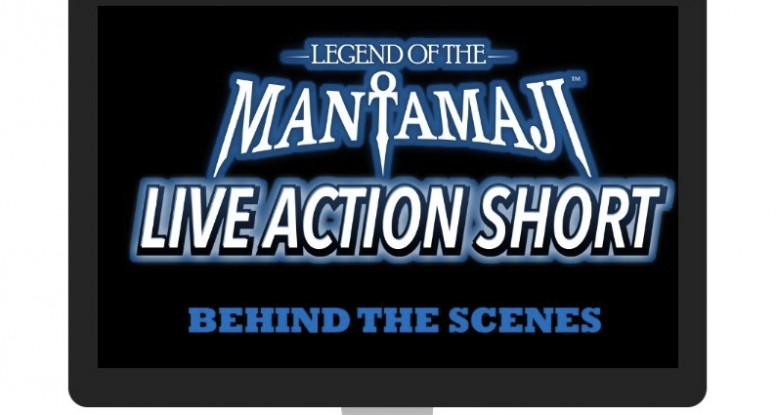 What does it take to bring a graphic novel to life? That's the question being answered in the new web miniseries – Legend of the Mantamaji: Behind the Scenes.
The series follows Legend of the Mantamaji creator and TV director Eric Dean Seaton and his production crew over three days as they bring a key scene from Legend of the Mantamaji Book One to life for the Legend of the Mantamaji Live Short.
"It's fun look inside life on set and a great way to introduce new readers to the series," Seaton said. "There is everything people love about behind the scenes footage – interviews with the people working on the film, insight on how stunts and scenes are created and the inspiration behind the story."
Most people have already seen Seaton's work without realizing it. Seaton has directed more than 200 episodes of 38 hit TV shows including NBC's Undateable, BET's Reed Between the Lines, Disney's That's So Raven, and Nickelodeon's Nicky, Ricky, Dicky and Dawn. In fact, you'd be hard pressed to find a show on Nickelodeon and Disney from the last 10 years that Seaton hasn't been involved in, a formidable experience that viewers get to see on display throughout the Behind the Scenes miniseries. Seaton however, isn't looking to show off for the cameras, instead he wants to give back.
 "The live action short is a couple of things…first, it's big thank you card to fans of the series," Seaton said. "We're an indie company with a new superhero and people have taken a chance on us. In fact the response has been amazing. We sold out recently at a con (C2E2) and we've sold out our initial runs on Amazon twice. The short is our way of saying thank you to the fans for using their power – both on social media and their dollars."
"Secondly, the short and the behind the scenes series is a chance to gain a bigger audience for the books," Seaton said. "It's not easy being the new company on the block. Not only do you have to introduce yourself and your characters to would be fans, you have to do the same to media and the information gatekeepers. It's an uphill battle for an indie company, we're definitely the underdog here, but then again, everyone loves the underdog."
The 12 episode series publishes weekly with the first episode clocking in at four minutes and the other episodes coming in at an internet ready viewing time of two minutes each. The series leads up to the launch of the eight minute film Legend of the Mantamaji: Live Action Short.
"This is an exciting and important step for the series and for the company ["And… Action!" Entertainment]," he said. "We're able to show that we here for the long term, positioned for growth and we get to show off what the Mantamaji can do which is really fun. I'm living my two big dreams directing and creating comics."