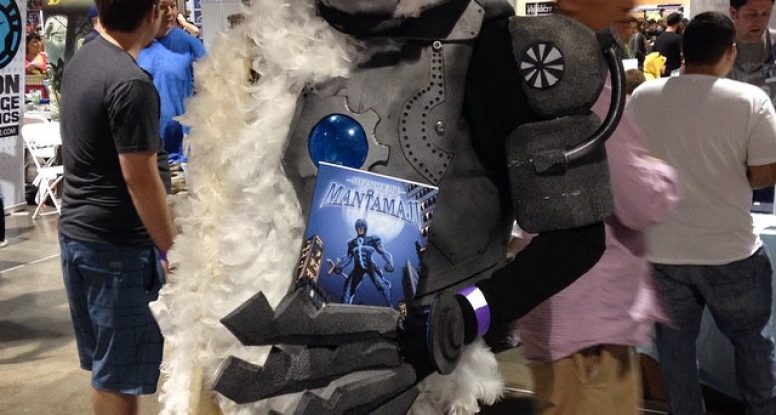 Independent publishers at comics conventions have a bit of a tough road ahead of them. First, you have to manage the logistics of getting to the convention. Next, decide how to set up your booth for maximum impact. Then, perfect your pitch…and that's all before people arrive.
Once the con begins, you are competing with everyone from huge comic book publishers, to well funded film and TV studios to hundreds of indies and cosplayers for eyes and wallets. My team and I have learned a lot since we've begun promoting Legend of the Mantamaji and as we move into con season, I wanted to share a few tips that have helped us boost profits and fans.
1) Be aggressive – in a very nice way.
People want to see you care about your project and believe in it. Share your inspiration for the work, smile and make eye contact. Your enthusiasm should be contagious, not offensive. Don't invade personal space (I'm looking at you close talkers), look for typical social cues to end the conversation and remember your manners!
2) Invite people to see your work, not buy your work.
You want to be seen first. Invite them to the table and interact with them first. The selling part will come, but what's most important is making everyone feel like they are special – because they are!
3) Stand up! Don't sit the whole day.
People are moving fast and looking right and left. If you sit the whole time they will look right past and over you.
4) Walk the floor early.
See what else is out there. Get your freebies and the collector items at the top of the day. You are not a big name item (YET), so your sales will start an hour after the convention opens.
5) Talk to people in costumes, but do not try to sell to people in costumes.
They are there to be seen, not to buy. And looking at most of their costumes, there aren't a lot of characters that carry a backpack or a bag as part of their hero look, so the cosplay people won't either.
You will see some amazing stuff though, so engage them, encourage them to take pics in front of your table (logo showing), share it on social media and tag the con. They'll find their pic and your work later. It took two months to make our Legend of the Mantamaji Live Action Costume so we love to hear other people's process.
6) Have a great pitch for your project.
It's your story, so know how to sell it. If you're paying attention, you can tell which words work and you can also tell which words just lost them. If your pitch is strong, you will win way more battles than you lose.
7) Give a discount on your work and offer autographs.
People always want to feel like they are getting a deal. We have a three book series so, for us, we want people to get book 2 and 3 if they like book 1. We don't over price the first one because we are trying to grow fans and move books, not milk every dollar we can with what we bring. When the convention is over, you want to walk out empty handed… well, except for the swag, collector items and freebies you got when you did #4 on this list.
8) Have a great time.
We always do! We meet new people and learn new things. Cons are fun! We spent six years creating, writing, drawing and now selling our book. It's a dream come true, so enjoy every moment. It's worth it.
Take a look at Legend of the Mantamaji today!
Got an indie publishing question for Eric? Ask it below!