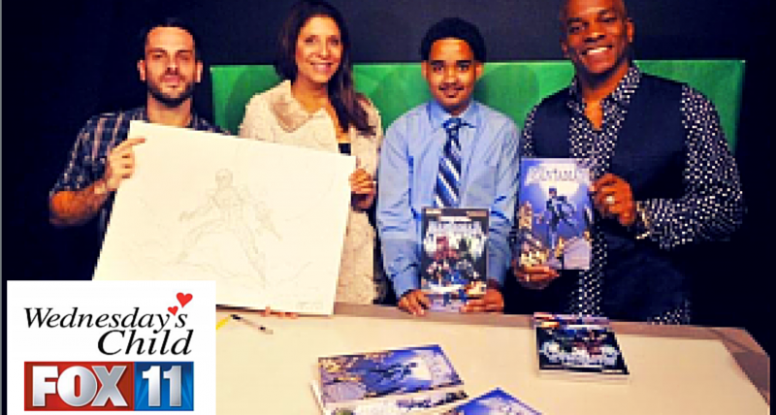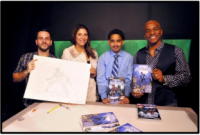 Today April 27th at 10:00 pm (PST) TV director and Legend of the Mantamaji creator Eric Dean Seaton and Mantamaji illustrator Brandon Palas are participating in Fox 11's Wednesday Child segment where they meet Raymond, a special kid who is looking for his forever home.
Raymond loves graphic novels and loves to draw, so it was a creative time on the set! He worked with Brandon on the drawing and got to keep the original!
Read more from the FOX11 news release:
This week on Wednesday's Child we are re-visiting Raymond (2000), whom we first featured back in 2013 with the Lakers. Now a teenager, Raymond remains active and likes riding bikes and is still into basketball.
The last few years saw some chapters of possible permanency for Raymond open and close, so we wanted to take another look and see how we could help Raymond reach the sometimes elusive permanency he seeks. And in taking a closer look, we discovered another interest of Raymond's – graphic arts and graphic novels. Raymond was more than happy to come along to Cal State LA's School of Fine Arts to meet up with television director and writer Eric Dean Seaton, the creator and writer of the graphic novel series "Legend of the Mantamaji."
Raymond can be a little shy at the onset so he was a little hesitant in showing us his artistic skills. But with the encouragement of Eric Dean Seaton and illustrator Brandon Palas, Raymond lent a hand at helping draw an original sketch of a Mantamaji.
Raymond is a determined young teen with a kind heart who currently has an eye on a career in the tech industry. Raymond shared with us that he would like to have a forever family that would provide unconditional love and support.
Tune in to Wednesday's Child to watch Raymond lend a hand at bringing a Mantamaji to life and then do something heroic yourself – call 1-866-921-ADOPT (2367) to learn more about how you can become the forever family Raymond has been seeking.
Thanks Fox 11 for the chance to allow the Mantamaji creative team a chance to meet Raymond!