Comic Books: Diversity, Legend of the Mantamaji Spotlighted in My Brown Baby.com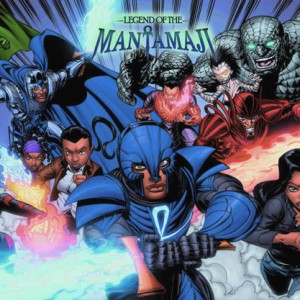 Denene Millner's popular and highly-respected MyBrownBaby.com blog highlighted the importance of diversity in comics in today's post "For Brown Babies Who Love Superheroes: Diversity in Comics & Film" and used the Legend of the Mantamaji as a reference for superhero storytelling featuring persons of color.
When I set out to make Legend of the Mantamaji, I didn't set out to make a Black book with all Black characters. I wanted to create a really good story with relateable characters that reflected society. Our world is multi-hued and we should celebrate and support that diversity and you see that in the books.
Comic books, graphic novels and superheroes represent wish fulfillment for people of all ages and backgrounds, which is why superhero movies, conventions like Comic-Con and superhero products continue to sell out. We all want to be the hero or the person that makes a difference," Television director and creator of the Legend of the Mantamaji series, Eric Dean Seaton, said. "Fantasy and fiction is best when it's based on something people can relate to. People of color were an afterthought in Superhero or Sci-Fi/Fantasy stories.
Read the entire post here: "For Brown Babies Who Love Superheroes: Diversity in Comics & Film" MyBrownBaby.com