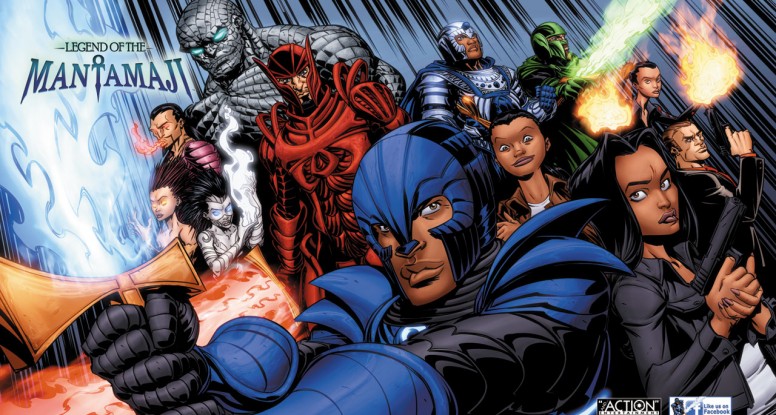 While World Waits for Black Panther Movie, Legend of the Mantamaji Graphic Novel Gives Parents More of Black Superheroes with Book Two Release
With the release of Book Two of the Legend of the Mantamaji graphic novel series, television director Eric Dean Seaton continues to appeal to superhero fans of all ages with multicultural characters and a thrilling, plot full of action and fun. Legend of the Mantamaji Book Two is available for pre-order ahead of its December 11th release, just in time for the holidays.
Los Angeles, CA (PRWEB) October 31, 2014
Superhero and comic book culture shows no sign of slowing down and with the announcement of more diverse characters on screen, parents of kids and teens who love superheroes are quietly hopeful the trend continues. The wait for a Black lead in a franchise film will be three years leaving parents still looking for quality media with heroes of color. Enter LEGEND OF THE MANTAMAJI, a three book graphic novel series by Eric Dean Seaton, top director of hit shows like TBS's "Ground Floor," NBC's "Undateable," Disney Channel's "Austin & Ally" and Nickelodeon's "Ricky, Nicky, Dicky and Dawn."
Launched October 8th, the series features African American male and female leads; a multicultural cast and strong storytelling from Seaton. Book One begins with hotshot Assistant District Attorney Elijah Alexander at the top of his career and the height of his selfishness. Little does he know his career success is directly connected to a secret that will put it in jeopardy. When a mysterious stranger appears, Elijah learns something incredibly shocking – he is not even human. Suddenly he has superpowers and is thrown into a world of magic, mystery and legendary evil.
"I'm just like the rest of the comic-loving world – I'm excited for the upcoming Black Panther movie," Seaton said. "I'm a huge Black Panther fan, the comic was part of what inspired me growing up as a kid in Cleveland, Ohio. I always knew I wanted to create a comic book with a big back story and I wanted to create a superhero that looked like me. People of color have been an afterthought in superhero and sci-fi/fantasy stories. I also wanted to create a story that appealed to a wide range of comic book and graphic novel fans – that is why the book has no swearing and the story is layered and nuanced for adult comic and graphic novel lovers."
"Legend of The Mantamaji," a 2014 San Diego Comic-Con Exclusive, is perfect for comic and graphic novel enthusiasts, ages 9 and up. Book One of this three book series is on sale now, Book Two and Three are scheduled for December 10, 2014 and February 11, 2015, respectively.
The book features artwork by Brandon Palas, colorist Andrew Dalhouse, who has worked with From Boom, Dark Horse, Image, Marvel and DC and lettering by Deron Bennett, who was nominated for an Eisner Award two years ago for his work on titles like Jim Hensons Dark Crystal, Jim Hensons Tale of Sand and Helldorado, among others.
PRAISE FOR LEGEND OF THE MANTAMAJI:
"Fans who bemoan the "big two" for a lack of vision or effort to create bold new characters and franchises should learn that innovation can often be found elsewhere. "Legend of the Mantamaji" has all of the excitement, imagination, and suspense to be a TV or film series on its' own, but instead it is here as a comic to be enjoyed by the masses who crave them. "Legend of the Mantamaji" volume one is a must read for those who crave all of the spectacle and action of superhero comics yet want a comic which offers creative new ideas and a progressive storyline with real weight behind it." [FOUR STARS] Alex Widen, Examiner.com
"I didn't want to put it down, dragging out the last few pages because I didn't want to come to the end! A refreshing take on a mystic warrior story in the modern world, while still harkening back to African myths and legends. Great to see an original, African-American superhero character come into his own in a seemingly grounded setting." [FOUR STARS]
"Author, Eric Seaton is a true contender in the comic world. Seaton knew what he was doing right from the beginning. An African- American D.E.A assistant in Manhattan, New York, soon discovers the stories that his mother had been telling him since he was a boy are true and that he must give up what he was worked for all his life to save the world. Just as any other hero that denies their destiny but soon or later have to except it. This is beyond imagination and I've had to stop myself from reading too much before there was nothing left to read. I love how the characters speak out loud and the reader is made to be part of the story. Legend Of The Mantamaji makes me feel like I can make my own comic book with an African-American as my lead character. Just looking at the cover I knew it would be a sensation, I look forward to the Mantamaji books to come." [FIVE STARS] Khamwryn, Amazon.com
"Summary: 5 Stars Easy. Loved this comic, loved the way it left me hanging at the end. And I loved that it was more complicated than I initially anticipated. I am really looking forward to our heroes journey and with Detective Spencer at his side the bad guys don't stand a chance!" [FIVE STARS]  – Thelonious Legend, GoodReads.com
"Rated ON!" by  – CommonSenseMedia.org
Legend of the Mantamaji: Book 1 
Eric Dean Seaton (Author)
David Ellis Dickerson (Editor)
Brandon Palas (Illustrator)
Paperback: 216 pages
Publisher: And… Action! Entertainment; 2nd edition
(October 8, 2014)
Language: English
ISBN-10: 1930315341
ISBN-13: 978-1930315341
Suggested Retail Price: $14.99
Series: Legend of Mantamaji: Book Two 
Paperback: 188 pages
Publisher: And… Action! Entertainment; 2 edition
(December 10, 2014)
Language: English
ISBN-10: 1930315376
ISBN-13: 978-1930315372
Suggested Retail Price: $14.99
For Media Interviews & Book Reviews Contact: Terreece M Clarke | 614.467.0361 | TClarke(at)LifeSliceMedia(dot)com or Press(at)Mantamaji(dot)com
View full release here: http://www.prweb.com/releases/2014/11/prweb12290839.htm