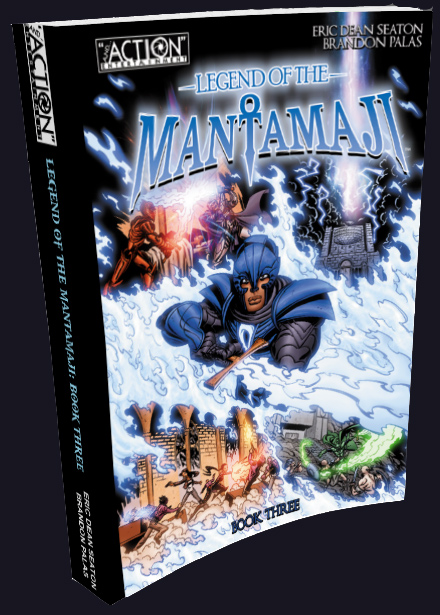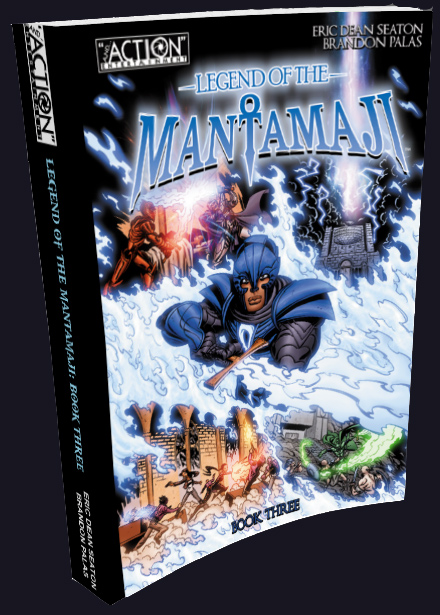 Print Price: $13.41 (on sale from $14.99!)
Digital Price: $12.99
Print Release Date: February 11, 2015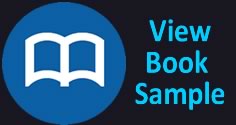 Credits
Writer: Eric Dean Seaton
Artist: Brandon Palas
Colorist: Andrew Dalhouse
Letterer: Deron Bennett
Graphic Novel Information
Genre: Fantasy/Superhero/Crime
Age Range: 9+
Format: Full color, 188 pages;
Print ISBN: 978-1-930315-56-3
Legend of the Mantamaji:Book 3
Beaten, betrayed, and left for dead, Elijah Alexander, the last Mantamaji, knows the end of the world is at hand. Soon Sirach will carry out his plan to open the Gates of Time and alter Earth's history to suit his purposes.  How can Elijah stop Sirach, when he's already failed before? To succeed, he will have to put aside vengeance, ignore his pain, and listen to a wisdom he's forgotten. But he, and the world, are running out of time.
Legend of the Mantamaji is a three-book graphic novel series whose sweeping tale of magic and mystery, heroes and villains, has a fresh look, a modern setting—and an ancient beat.
REVIEWERS!
All our titles are available for early review. Write reviews on social media, get a free book! See more here.
[gumroad id="YfeP" text="powered by Gumroad"]